Birthday
Da
Food
Friends
Giveaway
Birthday- Crab dinner and GIVEAWAY!
01:10
The dinner was actually last weekend, 23rd September, the Formula 1 racing day! =P Heh. Anyway, it was for my senior's 26th birthday, an...
The dinner was actually last weekend, 23rd September, the Formula 1 racing day! =P Heh. Anyway, it was for my senior's 26th birthday, and it was held at De Classic Golden Spoon at Tiong Bahru area. It is a little hard to get there if you are taking by public transport. But we reached there by car, courtesy of HC. LOL. So we reached at about 7pm and began ordering our food while waiting for one more person to arrive.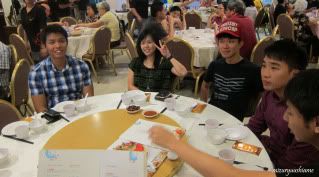 We were also in a prime area to watch F1 because there was a HD-TV right beside our table. Hurhur. =P And when the last person arrived, food was served~ =)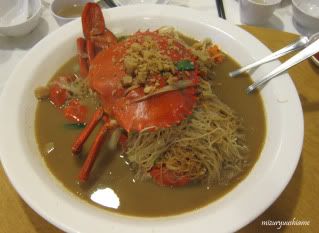 First dish: Braised Crab Meehoon Damnn. This is so heavenly! I love the meehoon with the broth, I kept taking. Hahaha =P And the crab is so tender~~ Maybe I was deprived of seafood and crab, so it was even better!! =D

Coffee Ribs tasted quite interesting. But not very spectacular, if you compare to the first dish. =X Hurhur.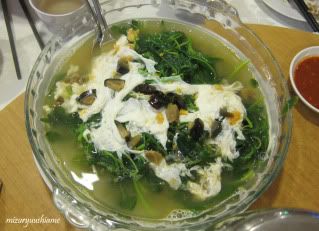 Three Eggs Spinach which was quite a good dish! Tasty yet simple. =) Definitely another must-try~ =D I kept drinking the soup, which was not too salty. Hee. =P

Tofu. Didn't get the full name of the dish. Only remembered the tofu being very soft and smooth. =)

(Half of a )Roasted Crispy Chicken. The chicken was quite decent. Not too bad. =)

Baked Salted Egg Yolk Crab. Another crab dish! =) The salted egg yolk with the crab was so shiok~ Salty goodnesss~~ Whoots!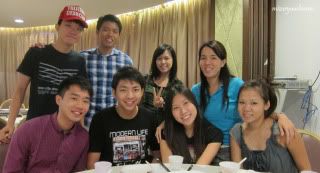 Group Photo! Haha. We waited till F1 ended before leaving the restaurant. Vettel won! Haha. Why no Hamilton?! LOL!
Giveaway Time!
Finally had the time to do a simple scrapbook type of photo. Pardon me because it's my first time playing around with scrapbook images. Credits go to ShabbyPrincess.com.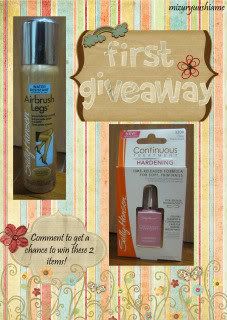 Product 1: Sally Hansen Airbrush Legs (Medium Glow) which is great for Asian skin!
You can get flawless-looking legs with this. This lightweight leg makeup, enriched with Palmaria Extract, enhances the coverage of freckles, veins and imperfections. It's water and transfer resistant.
Product 2: Sally Hansen Continuous Treatment Hardener
If you have soft and thin nails that tear and peel easily, apply with this hardener to achieve stronger and durable nails. =) After continuously applying for about 2 weeks, expect harder and thicker nails!
Anyway, I am giving away two products from the Sally Hansen Nail Care Workshop that I have been to last month. Because I will definitely not make use of these products, so I am giving them away. They are all unused, of course~ Haha.
Anyway, to qualify for this giveaway. Simply leave a comment, stating your name and email address and tell me what improvements I can make for my blog or any other comments. Giveaway lasts for a week till 10th October and I will round up the names and announce the 2 winners latest by next Sunday, 13th October 2012. So, hurry and leave your comments! =D Cheers y'all!