IPL
MUSEE
MUSEE Platinum Tokyo - First Underarm IPL
14:39
Yesterday (2nd August) was my first time to MUSEE Platinum at PARCO Millenia Walk. On a side note, I always thought the nearest MRT is actua...
Yesterday (2nd August) was my first time to MUSEE Platinum at PARCO Millenia Walk. On a side note, I always thought the nearest MRT is actually Esplanade, but hell was I wrong. Literally wasted walking time heading there and I was almost late. Oops. =X But, I made the 11am appointment time. *wipes sweat* Haha. =) So ya, I bought the Groupon voucher for Unlimited Underarm IPL sessions (SGD98) with MUSEE Platinum because I have been hearing a lot of good reviews about their service. And now, I am here for the deal and let my experience speak for itself. Haha.
For those who are not so sure what IPL is about, IPL stands for Intense Pulsed Light. IPL is a technology used by beauty studios and medical practitioners to perform various skin treatments including hair removal and photo-rejuvenation. The technology utilises specific wavelengths of light to target various chromophores in the skin. (Source from Wikipedia) In this case, IPL is used for hair removal and according to MUSEE, the hairs will fall off, along with the roots, within 2 weeks time. Also, along with the specially formulated cold gel by MUSEE, the gel becomes activated when exposed to the laser light. This ultimately delays hair growth, and also dulls hair growth! Time-saving, don't 'cha think? =D
Back to my personal experience. =) When I entered the MUSEE Platinum Tokyo store at level 3 of PARCO Millenia Walk, I was asked to present my membership card for member verification purposes, and ushered into one of the treatment rooms. There, I was presented with a tank top to change into so as to make the process simpler for them.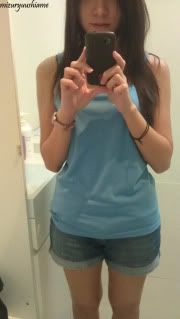 Random shot of me in the tank top, which was quite loose BTW. Haha.


A locker to put your belongings inside.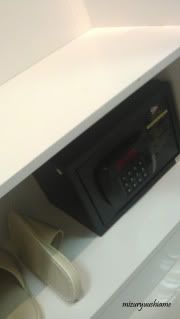 There was even a safe for those who are more security-conscious!
After changing out, I laid myself on the treatment bed and relaxed. The service staff were very polite and they specifically told me every single step they did. Impeccable and very detailed. I was really impressed!! Okok, from pure memory, they told me to raise my arms up to a very comfortable position and proceeded to put on goggles for me. The goggles were for later, when the IPL laser will be used, to protect my eyes. The service staff swiped some alcohol-like thingy to cleanse the underarm, and following that, she shaved my underarms for me and cleaned up the area. After that, a cold gel was put on my underarm, and golly, is it cold. =X I got a slight shock even though she already gave me a warning that she was putting the gel on. Lol. Well, you can't blame me, I am a virgin at IPL. Haha. Anyway, after that, the IPL laser was used. The service staff told me that they will be starting the IPL session proper and gave me one shot of the IPL. She then asked me whether I felt any pain, I said no, and she proceeded to give me about 6-7 more shots. Following that, she did the same to the other underarm. After that, she wiped off the cold gel and put on a cold pad to my underarms and allowed me to relax for about 5 minutes. After the 5 minutes were up, she removed the cold pads, put on some lotion on my underarms and removed my goggles.

The IPL machine!
And we were done. It only took about 15 minutes! Talk about efficiency man~ Whoots! =D Haha. After that, I changed out, booked my 2nd appointment which is in 2 months time and off I went. =)
In my opinion, I thought that the MUSEE Platinum staff at PARCO Millenia Walk were very polite and told me every single step they were doing throughout the entire IPL process. I was quite nervous in the beginning when the service staff was doing the IPL though. But I was put at ease by their detailed explanations and how professional they were. So gals, head on by their website for the current deals for Unlimited Underarms IPL package now! A definite pleasant experience awaits!
Also, if you do recommend somebody along, just state their member ID, and both you and your friend can receive a free session of IPL (small part treatment)! So if you are wondering, just state my member ID: 81012775, and you can receive a free small part IPL treatment! =D