Concert
Da
Events
F1
Formula 1 Qualifiers and Maroon 5 Concert
00:47
Being a Singaporean, the best thing about September is the Formula 1 racing that is held in Singapore! The Singapore Grand Prix began as ear...
Being a Singaporean, the best thing about September is the Formula 1 racing that is held in Singapore! The Singapore Grand Prix began as early as 1966 but was discontinued after 1973. Bet you guys don't know that, because I just searched and found out too! OOPS! =X HAHA! Anyway, the Singapore Grand Prix begun again on 2008, and was the inaugural night race and is the first street circuit in Asia. Cool eh!

So my Dad, being an avid F1 fan, bought tickets again for this year's event! =) And my parents decided to sit out the Saturday, qualifier's day. So me and Da got to go on Saturday! =D Hurhur! This was our second F1 together~ <3 Hee. So ya, the F1 qualifier's for Saturday was held at 9pm to 10pm, so we only arrived at 8pm at the Stanford Grandstand. We walked about and took some photos. =)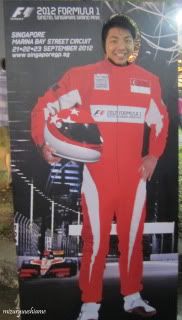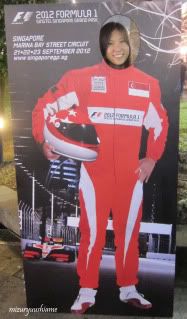 We look so ku-ku. But everyone was taking photos of themselves too. Heh.

There were some F1 volunteers who were helping out there too. They helped us to take this shot! =D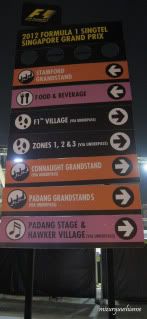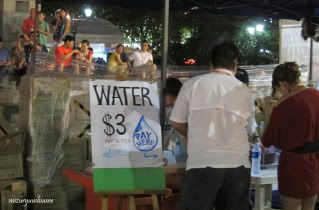 A bottle of water for $3?! Good thing we brought drinks along. Haha. =P
So ya, we reached our seats at 8.50pm. And started munching on some tid-bits that I brought. And the qualifier's began. So, there are 3 qualifying (Q) rounds. Q1 eliminates about 7 drivers and Q2 eliminates about 6 drivers. That would put 10 drivers that were still remaining for Q3. And Q3 helps to determine their pole positions before they start their race on Sunday. So ya, of course this is very important for the drivers. =) So Q3 was the somewhat more exciting part. And it ended with Lewis Hamilton being the pole position followed by Pastor Maldonado and the third was Sebastian Vettel.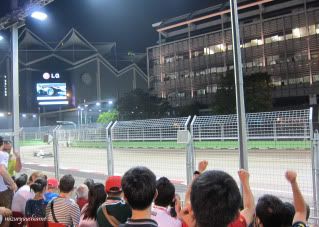 Die-hard fans who know who the drivers are as they zoom past. Seriously, I cannot tell who's who. I know, I'm a noob. LOL!!
For those who haven't been to an F1 race live, I randomly took a short video of it from my seat. Haha. It's quite shaky and loud, so pardon me! =X
And since its already Monday, the results are already known, with Sebastian Vettel winning the 2012 Singapore Grand Prix - Formula One World Championship. Second place being Jenson Button and the third is Fernando Alonso. Was slightly disappointed when Hamilton dropped out of the race. BOOO! =X
After the qualifiers, we walked to the Padang area because Maroon 5 is going to be there for their concert! *excited* But when I went there and saw the number of people, I was a bit -___- Haha. Cause I really hate crowds and I will start getting skittish. Anyway, we witnessed a bitch-fight, well not exactly a fight, but it was more like yelling. And they were calling each other "bitch".
Anyway, Maroon 5 started with their first number and belted off a few songs - Payphone, This Love, etc. Haha. We even managed to video a part of Payphone too. The sound quality is quite good (I think), pardon the video though, too many people around us. =X HAHA.

Secretly, I was jealous of the little girl. HAHAHAHAHAA!
We didn't stay till too long though, we were quite scared that there will be a lot of people heading towards the MRT later, so we left at about 11.45pm and took the Circle Line, which was relatively empty. LOL =P Anyhow, it was a really pleasant experience, too bad we couldn't have the ticket on Sunday. Katy Perry Live would have been a blast too =X So till next time~
Will be blogging about the crab dinner I had just now, while celebrating my senior's birthday and also, the give-away for my loots from the Sally Hansen Nail Workshop!! =D