IPL
MUSEE
MUSEE Platinum Tokyo - Second Underarm IPL
00:20
Just had my second session (1st October) with MUSEE for my second underarm IPL! =) I reached at 11am, just in time for my session, and aga...
Just had my second session (1st October) with MUSEE for my second underarm IPL! =)

I reached at 11am, just in time for my session, and again, I was out by 11.15am. Haha. Really fast and the service quality is still good. If you want to know the exact step-by-step procedures they do, just click this link First IPL Underarm Experience with MUSEE.

This time I was more pro-active and I asked more questions. The lady who tended to me was polite and didn't seem to mind when I bombarded her with questions. So, good customer service for that! =) She also gave me some advice so that the IPL treatment would last longer, like not shaving the hair often, but trimming the hair instead. Also, she said that during IPL, the center area of the underarm would be slightly more pain as compared to the sides because of the bone-y area. She also reminded me not to shave just one day before the treatment or else the IPL treatment may not be as effective, so about 2-3 days would be better. =) Heh.

Anyway, after my first IPL treatment with MUSEE, I noticed that hair growth is slower and I do not have to shave as often! =D But to have almost no hair growth, more treatments are required so, I booked my third appointment for December! Can't wait for the hair to cease growing. LOL. =P

And most importantly, no hard selling is involved and there is no hidden cost in the MUSEE package. So what you see and what is quoted, is really what you will pay! Haha. So no worries! =)

Currently there is still an ongoing promotion! $138 for every new member which is valid till 31st October 2012!! So what are you waiting for? Head on down for your first IPL session at MUSEE! =)

Photo credit to MUSEE Platinum Tokyo!
Anyway, do recommend someone along and state their member ID, then both you and your friend can receive a free session of IPL (small part treatment)! However if you are going alone, you can still receive a free small part IPL treatment by quoting my member ID: 81012775. =D
Hope you get a similar enjoyable and fuss-free treatment as me! =D
MUSEE Platinum TOKYO - Singapore Branches
----------------------------------------------------------------------------------------------------------------------------------------------------------------------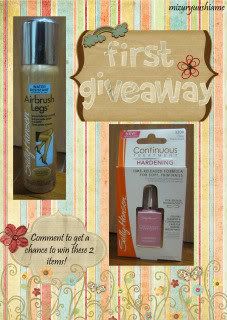 Anyway, I am still giving away two products from the Sally Hansen Nail Care Workshop that I have been to last month. They are all unused.
To qualify for this giveaway. Simply leave a comment, stating your name and email address and tell me what improvements I can make for my blog or any other comments. Giveaway lasts for a week till 10th October and I will round up the names and announce the 2 winners latest by next Sunday, 13th October 2012. So, hurry and leave your comments! =D Cheers y'all!