Holidays
Taiwan
Day 7 and 8: McDonalds at XMD > Raohe Night Market ; NY Bagels > Taoyuan Airport
22:14
Day 7 Slept in till late again. Haha. This time we had a logical reason to do so. Cause today is the day when our Tai Yang Bing (太阳饼) from...
Day 7
Slept in till late again. Haha. This time we had a logical reason to do so. Cause today is the day when our Tai Yang Bing (太阳饼) from Li Yi will be arriving. *ahem* In fact, they delivered it right to out (hotel) door step. Haha. =)
Ooh-ho-ho~ Make me so gian to steal one for myself immediately. Haha. The 8 boxes were quite bulky and weigh about close to 5kg I think. I was a bit worried that our luggage will be too heavy, so I was torn between buying more clothes and the prospect of having to pay an additional I-dunno-how-much if our luggage to exceed our 20kg weight limit. Boo! D= Haha. Anyway, we dragged our lazy asses out of bed for lunch. =D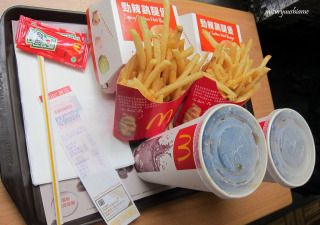 McDonalds! Whoots! =)


Slightly fascinated by the Chinese words on the fries box thingy


McSpicy! Less spicy as compared to Singapore, thus less prone to get a tummyache later. Hurhur.
After that, we shopped around Ximending area and both of us each got a pair of shoes. Haha. I bought a pair of flats for TWD200! Less than SGD10!! Of course MUST buy!!! HAHA! And Da bought a pair of sneakers for TWD700. Well, it is relatively cheaper than the shoes he was wearing. Haha. He didn't want to buy that pair of shoes, but I kind of reasoned with him till he bought it. Hurhur. =) Anyway, what's up with guys and their "logical" explanation that one pair of shoes is enough? What if it gives way on you? At least you have another for back-up right? Haha. Then again, I think I have about5 pairs of shoes for back-up. Hahaha!! Though I think I am quite mild as compared to many of my friends. =)
After shopping around XMD, it started raining again. Gahhs! So we headed back to our hotel and dump our loots. Then we contemplated on where else we could go, so we decided we want to go back to Raohe Night Market again for dinner!!! =D So, I settled for Wufengpu!!!~ YAY! Well, it was a bit too early for dinner le~ /whines Headed back to Houshanpi station, and off we go~ Didn't buy anything though. Haha. Observe my restrain! Haha. =P Then when it was time for dinner, we walked to Raohe Night Market. Anyway, it was still drizzling, so there were lesser people, thus lesser queueus, and also, lesser stalls opened. =X

Observe the emptiness of the street. /gyaa


We bought the Hot Pepper Bun again~ =)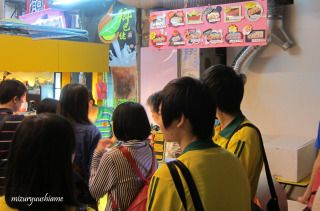 Queued for Yu Zi Shao (玉子烧) again. In case you guys forgot, it's omelette with corn, cheese and mayo. There are different flavours too! But instead of buying just 1, we bought 2 flavours this time =)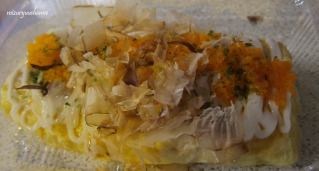 Ming Tai Zi (明太子) again!


Lobster Salad flavour! Equally yummy!! =D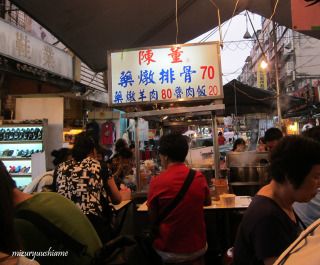 Decided to try something different, Herbal Lamb Soup!


This Herbal Lamb Soup didn't have that weird funky lamb taste that I didn't like. Apparently it's much better than I expected!! Heh. And I'm usually stubborn, and don't like to try new food. =X The ginger helped to remove the weird funky taste, I think. Heh. =) Also, we ordered a bowl of Stewed Pork Rice (滷肉飯, Lu Rou Fan). Both only cost TWD100, less than SGD5! =D WOW!


We also ordered a take-away Oyster Pancake, 蚵仔煎!


This is my first time eating a delicious 蚵仔煎! Singapore's version is saltier and the Oysters are usually not fully cooked, because Singaporeans prefer them slightly uncooked. For me, I prefer them fully cooked. Haha. =P Also, the Singapore version is WAY saltier, but the Taiwanese version is sweet~ So the Taiwanese Oyster Pancake got me hungry for more!! =) So ya, I'm a sweet person. /puppy dog face. LOL. *shudders*
After that, we headed back to our hotel to pack up our bursting luggage, due to said Tai Yang Bing 太阳饼 as mentioned before. LOL! Slept earlier than we ever did for the entire trip. Lol. At midnight. =X

Day 8, Last Day in Taiwan
Woke up bright and early to check out. =) Decided to end our Taiwanese trip with a fantabulous breakfast, so we were off to NY Bagels again! I know, we like that place very very much! Seriously, grab a bite at NY Bagels if you ever do get a chance! =)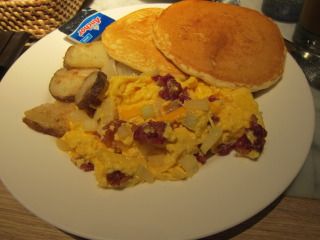 Tried something new this time. Scrambled eggs with bacon, pancakes and potato wedges. =) Super filling!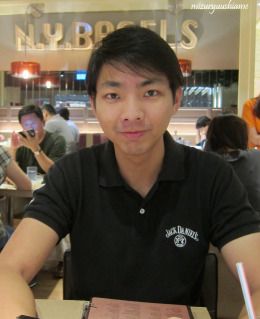 After that, we started looking for the bus to get us to Taoyuan Airport. It took us quite a while, and we were kind of in a rush too. So I didn't take photos along the way. Oops. =X When we exited NY Bagels, we headed to the right (same level), and saw a booth that is selling tickets for Kuokuang (国光) bus. But we realised they were not selling tickets to Taoyuan Airport. We had to exit the Taiwan Main Station building. So we asked around for directions, thank goodness for friendly Taiwaneses!! =D So polite too! =) Hee. But ya, we finally managed to find our way to the bus depot. Heh. =)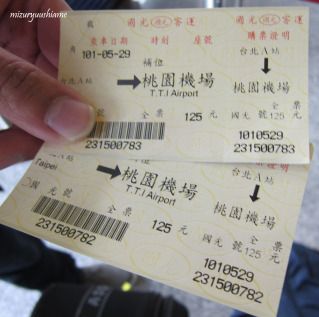 Our tickets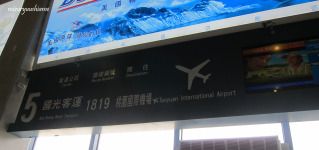 There are 2 terminals of Taoyuan Airport, so you have to clarify with the bus driver which terminals you will be alighting. For Tiger Airline, its Terminal 1, the first stop. =) Anyway, if you are unsure, the bus driver has a board that shows you what planes take off at which terminal. Talk about tourist-friendliness!!~ =D Whoots!


Since Tiger Airline does not have entertainment on board, we bought books to entertain ourselves. Hurhur. =D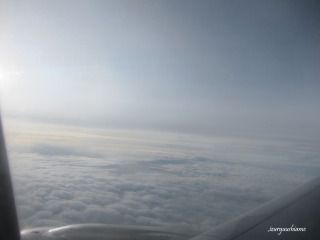 We got window seats~ Heehee!


Us, as we head back to Singapore!
So ya, finally after 2 months, I completed blogging about my 8 day Taiwan trip. How inefficient I am/was. Tskk. Anyhow, I can finally blog about other stuff. Haha. =P Anyway, I'm quite tired this week. Woke up at 5.45am to reach school (Pulau NTU) at 7am to do my Research stuff and didn't eat breakfast and lunch for that day. Crap! And I missed lunch today too! =X So many people keep telling me that I have become thinner! Sigh. Need to eat more... Haha. Anyway, toodles~ Need to go school again tomorrow for cells harvesting! =)