Food
Wedding
Mei Li's Wedding at Marina Mandarin
12:44
This was quite a while ago. =X Anyway, my family and I attended my cousin's wedding at Marina Mandarin hotel. It was not in a large ball...
This was quite a while ago. =X Anyway, my family and I attended my cousin's wedding at Marina Mandarin hotel. It was not in a large ballroom, but what mattered most was that there were fun, joy and laughter throughout the dinner event. =)

Took a few shots outside before we headed into the ballroom. =)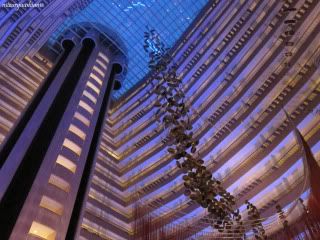 Always liked the interior of this hotel, looks so grand!

Took a shot of me and my Daddy! =D
There were other shots of me and my Mommy, but as usual, my Mom did not want me posting photos of her on the net. Lol. =X Anyhow, we headed into the ballroom and realized that we were to be seated on the "Red (VIP) Table", as commonly known as the 红桌, but it was the bride's side. So only the closest relatives from the Bride's family get to sit on the table. =P

The decoration on the Red Table is really very pretteh~ Lol.

The bride and groom =)

Suckling Pig Combination
Suckling Pig Slices, Pan-fried Abalone Clam with Garlic, Prawn Salad, Jellyfish with Sesame Seeds & Prawn Spring Roll
A glorious combination, the cold dish is always one of the best dishes in the entire the dinner. The suckling pig slices is both crispy and juicy~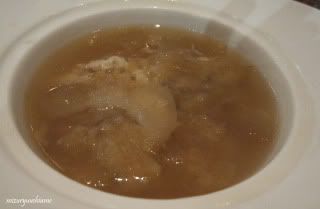 Braised Three Kingdom Shark's Fin Soup
Sliced Abalone, Shredded Chicken & Black Mushroom
The broth of the soup is thick and flavourful =) Again, I have to emphasize that Sharks' Fin is not neccessary, so SAVE THE SHARKS! =)

Chef's Special Crispy Roast Chicken
Almost every wedding dinner (and sometimes lunch), you will get to see this dish being presented. Truth be told, I find it a simple and yet appetizing dish. =)

Steamed Cod Fish with Golden Minced Garlic & Soy Sauce
The best fish-dish I ever tasted in the many weddings I attended. Partly because its boneless. =P The cod fish was steamed to perfection and the fish instantly melted in my mouth with a tinge of saltiness. Simply heavenly~ Sigh. Haha.

Pan-Fried Prawns with Quaker Oats
The prawns were quite decent and very crispy. My Dad helped my mother and I to peel the prawns. =P So gentlemanly~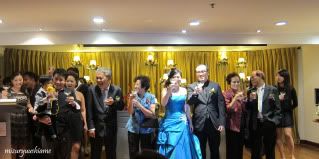 Photo taking! Yam-seng time~

Braised Abalone with Seasonal Vegetables
Another rather decent dish. Nothing much to emphasize about.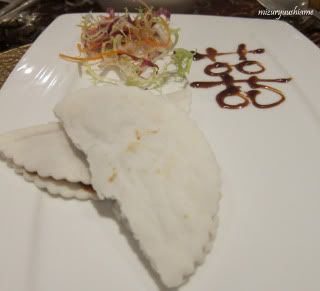 Smoked Tea Duck with Mini Pancake
The smoked tea duck tasted quite splendid alone, but the mini pancake did not enhance the taste of the duck. To me, I thought a simple "popiah" skin would have been better.

Braised Ee Fu Noodles with Crabmeat & Mushroom
During this dish, I was quite full already. =X Haha. But the noodles were delicious though and it was not too oily.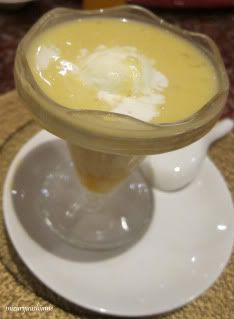 Mango Sago with Ice Cream
Such decadence~ Sigh... =) A great dish to end the night!
Overall, the dishes were sent out very quickly. Definitely great service and excellent taste. One of the best wedding dinners I ever been to! =)
Here's to my cousin and her husband, a blessed marriage and 早生贵子. Tee-hee~ Anyway, they are currently on their honeymoon! Sigh. When's my turn? LOL!!
Anyway, to all my readers, hope you guys had a great Christmas celebration and also, wishing all a Happy New Year! And I am stoning at home, because I ate too much good food the day before and now I am sick! Boo! Lol. So, enjoy yourselves and remember to take good care of your health yo!~ =) Cheers to all!