Family
Food
Life
Soup Restaurant with 妈, 阿姨 and Da
18:42
Haha. Been MIA for awhile. Managed to clear my assignments that were due this week and next week. Though there are new ones coming every wee...
Haha. Been MIA for awhile. Managed to clear my assignments that were due this week and next week. Though there are new ones coming every week. Pweeh! Haha. =X Anyhow, a little update on my life. Next week is week 4 of the semester! The weeks are literally flying by. Lol. Have to start revising or else I might regret it. Haha. It's the last semester of official studying for me, so I thought that I should give it my all. Then I crash and relax (hopefully) for the final semester for FYP. =)
Anyway, I went to Soup Restaurant at NEX with 妈, 阿姨 and Da two weeks ago (20th August), for lunch. I always liked the Soup Restaurant speciality, which was the Samsui Ginger Chicken! Haha. For those who are not sure what it is, you should seriously try that when you head over to Soup Restaurant!!

Quote: "A traditional Samsui dish consumed by the Samsui women in Chinatown. Due to their low income, the Samsui Ginger Chicken was only consumed once a year, during the Chinese New Year. Chicken was steamed without much seasoning after which, dipped in ginger sauce before consumption. The ginger sauce is a fragrant and tasty compliment to the chicken. Ginger and sesame oil, as believed by the Chinese, removes excess wind from the body. You may wrap the chicken in lettuce to achieve that crunch when you bite into the popular Samsui Ginger Chicken." Taken from Soup Restaurant website
So ya, we ordered our food and after about 5-10 minutes, the first dish arrived!

Yes! Samsui Ginger Chicken! It is essentially the best dish here ever! The chicken is juicy and tender. Also, fresh lettuce was also presented to us, to wrap the chicken (after dipping in with ginger). The combination of the lettuce and the ginger chicken was simply heavenly!~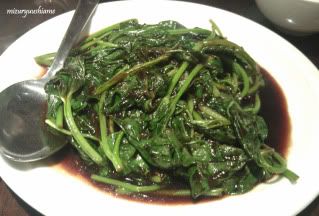 Next up was Ah Por Fan Shu Leaves (non-spicy). For those who want the spicy version, it is Ah Kon Fan Shu Leaves (spicy). Lol. I thought Soup Restaurant was quite thoughtful to cater to the people who didn't want spicy food. =) Hee. Anyway, this dish is also one of the signature dishes of Soup Restaurant! So, do not miss this too!! =)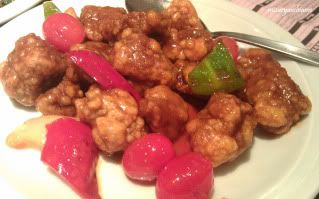 Sweet and Sour Pork with Cherry Tomatoes. A new dish by Soup Restaurant. To me, I thought it was still okay because I prefer the Sweet and Sour Pork to be more crunchy. =)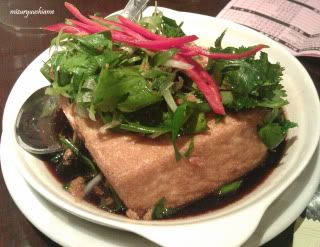 Last but not least, Hometown Tofu. This delicate tasting tofu was quite good! At first I wasn't that impressed with how the dish looked when it was presented to us. But after one bite, my impression changed. The tofu skin is crispy yet inside, the tofu was very soft~ Along with the sauce, it was a light tangy taste with a slight crispyness. Good one! =D
So it was a great meal for me~ =) Haha. Not sure about my 妈 and 阿姨, but my 阿姨 did say that she liked the chicken. Da said the chicken and the sweet and sour pork. Haha. =)
Shall update again soon, about our 52nd monthniversary at Sushi Tei!~ =D Cheerios!