Food
Friends
Wedding
Tek Xin and Vivian's wedding
01:21
First time attending a friend's wedding, with a Catholic church and Chinese dinner styled. Also first time attending a wedding with Da. ...
First time attending a friend's wedding, with a Catholic church and Chinese dinner styled. Also first time attending a wedding with Da. Hee. Many firsts for me. Haha. =) Anyway, the church is St. Francis Xavier Church, situated in Serangoon Gardens. Not exactly very pedestrian-friendly. Lol. Was sweating when we reached the church. =X Anyway, it was the first time I entered into a Catholic church. Sorry, I am quite sua-ku. Haha. Anyway, there were a lot of songs (but considerably lesser than that time I went to a Christian church), readings, followed by the exchange of vows and rings, and many more rites that I am unsure of. =X Anyway, here comes the swarm of pictures. =D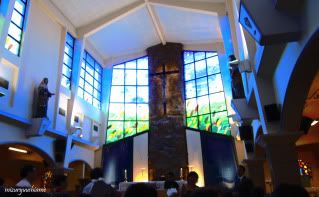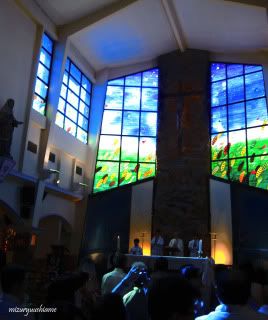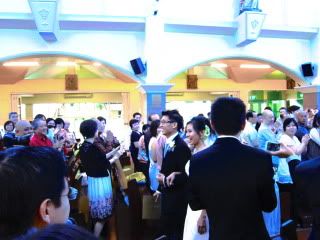 Saw one of my friends that I met during my TK days =)
Haha. There are way more photos that that, but they are on my facebook, and I hope I don't exceed the photobucket photo limit. =X Hahaha! Anyway, after that, we headed for the catered lunch. Haha. There were quite a lot of food and the decorations were quite well done. But apparently I was too hungry to bother about taking photos, so I grabbed some food with everyone, and ate and talked. Haha. After that, Da and I went back to his house to stone for a few hours then we prepared for the evening dinner. =) Of course, we changed clothes and headed out to Paya Lebar MRT and hitched a ride from our friend. Headed to Orchard Hotel!

Mavis, Zhiying and Ms Chew


The Stage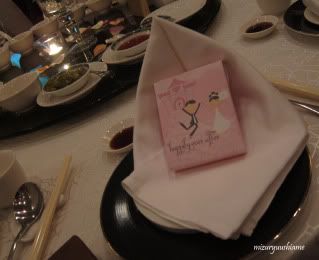 Free gift: A pack of playing cards


Emcees


Enter, the newly weds - Mr and Mrs Chua!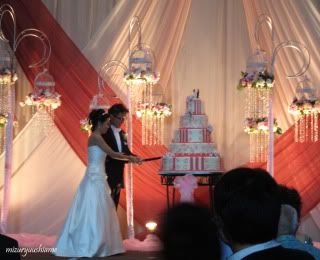 Cake-cutting. Secretly, I wonder, do they pack the cake home to eat? =P LOL!
After that, dinner was served! It was an 8-course dinner. And if you wondering why I can remember the entire names of the food, that's because I snapped a photo of the menu. Hurhur. =P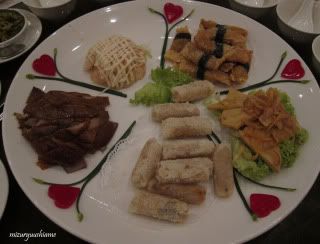 Deluxe Combination (Roasted Crispy Duck, Deep-fried Beanskin & Seaweed Roll, Fresh Prawn Salad, Marinated Spicy Top Shell, Vietnamese Spring Roll) ; Savoury and a great dish to start off the entire dinner =)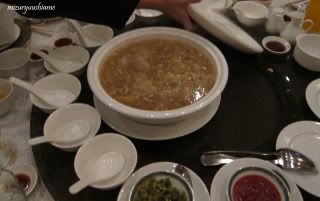 Braised Shark's Fin with Crabmeat ; Not bad, but I usually like Shark's Fin because of the starchy soup. Heh. So the Shark's Fin wasn't a neccessity. Kind of thinking of not having Shark's Fin for my own wedding. Hmmm...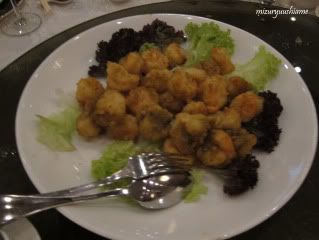 Deep Fried Prawns with Spicy Homemade Sauce ; Nicely marinated, the prawns were crispy and came with a slight tinge of spiciness, just right. =D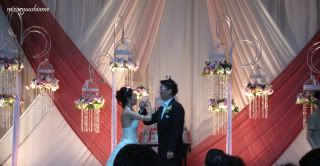 The bride and groom entered again for the exchange of wine ceremony.


Next up, Steamed Garoupa in Teochew Style ; The fish was chewy and soft, cooked just right. Not bad, and it was "cleaned up" quite fast. Hee. =P


Crispy Roasted Chicken ; Saw this dish in a lot of hotels' dinner reception. And I always liked it, maybe it was the keropok. Lol. =D


Braised Sliced Abalone with Whole Conpoy and Spinach ; Not bad, the abalone, spinach and conpoy combination worked out. However, I felt that the spinach was cooked a bit too well, so it was quite "nua". Haha.


Fried Rice Wrapped in Lotus Leaf ; Personally, I didn't really like it. Haha. But from a neighbouring table with older folks, I saw them enjoying this dish very much. Heh. Guess I prefer sweeter staples. =P


Chilled Mango Puree with Sago and Pomelo ; When the last dish came, Da and I thought that it looked a bit weird. Lol. And when we tasted it, one mouth was enough. It was too sweet and tasted very much like mango syrup straight from a bottle. Especially when the last time I tasted dessert from a wedding dinner was Chilled Rock Melon Cream with Sago Pearl and Ice Cream from Hotel Intercontinental. And golly was that heavenlyy~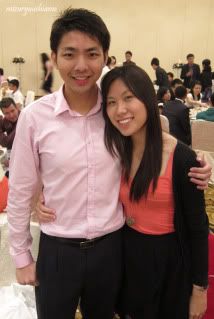 With Da <3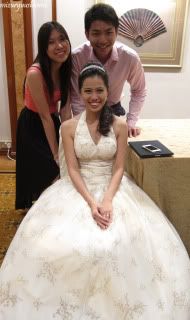 With the bride!
After the wedding dinner, we headed out to Marina Mandarin Hotel for some drinks. =) Da and I shared a cup of ice blended chocolate. Haha. I didn't want alcohol or caffeine. Haha. After that, we headed back home. =) Anyway, on a side note, Marina Mandarin Hotel is really quite pretty. =) Heh.

Nice view looking upwards. =)
Anyway, just had lunch with my school friends yesterday afternoon at Coastal Settlement to celebrate Siwei's birthday. Will blog about it after I edit my photos. =) Cheers!