Holidays
Taiwan
Day 6: 新北投 Hsin Peitou Hot springs> 師大路夜市 Shida Night Market
22:50
As usual, we woke up late, almost just in time for lunch and rushed out to get to 新北投. We took MRT from Ximen Station to 北投 Beitou station a...
As usual, we woke up late, almost just in time for lunch and rushed out to get to 新北投. We took MRT from Ximen Station to 北投 Beitou station and changed platform to take another train to 新北投 Hsin Beitou station. It was slightly irritating cause we had to walk down the stairs and up again. Lol. We are lazy bums. =P Heh. And during the train ride to 新北投, I realised I forgot to bring my camera! BOO! So you guys have to make do with shots from my handphone. Haha. Hopefully the resolution isn't that bad. Hee.


Hsin Beitou station!


Interesting looking trains that will bring you to Hsin Beitou station.
Anyway, when we arrived at Hsin Beitou station, we exited and started looking for a place to eat. =) It was slightly drizzling, so we quickly crossed the roads (diagonally to the station) and settled on a Ramen store.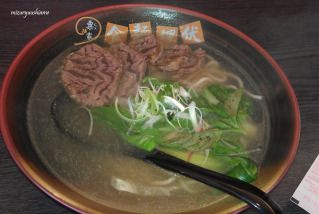 Da's Stewed Beef Ramen, which was exceptionally chewy. Even better and cheaper than Lai Lai in Singapore!


My Kimchi Pork dried Ramen. Slightly spicy and the pork was very tender!!
Lunch amounted to TWD250 for both Ramen! Cheap and good! =D Whoots! Was very satisfied with our lunch, and by then, the drizzling had stopped too. Haha. Lucky us! =) We started to make our way to find the Hot Springs.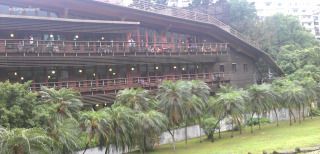 Was walking along the path to Millenium Hot Springs, and chanced upon this cool-looking architecture-like building. This is actually the Hsin Beitou Library! We entered and walked about later.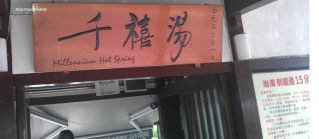 Millenium Hot Spring. It costs TWD40 per person and an additional TWD20 for a locker.
Upon looking (very discreetly), we realised that there were a lot of old folk down at the Hot Spring. Haha. And I kind of brought my bikini, thinking there would definitely be lesser people. So, we decided not to enter that Hot Spring. In case you were wondering, unless you are VERY TALL you cannot see the Hot Springs. Well ya, one of the benefits of having a tall boyfriend. =P HAHAHA. We headed into the Hsin Beitou Aboriginal Museum too. Nothing much actually, more of history and sulphur rocks. And I am allergic to sulphur. *shudders* Haha. We walked along the path somemore and found a kind of shallow lake. A lot of people were immersing their feet into the waters so we decided to take a look too. Besides, its free too! Bwahaha!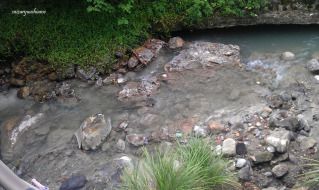 The water looks so serene~


Me looking like a little girl. LOL.



Da <3


Here's the library I was talking about just now. We headed in for a while to rest. And I realised I scratched my leg on some sharp rocks while in the lake just now. Booo! =X Haha.

After that, we walked to 7-eleven to get a drink. Mocha ftw!
Then we headed back to our hotel to refill our bottles and throw our swimming stuff back into the luggage. And also, to claim my camera!! =D Haha. I know, I know. We don't exactly have a very packed schedule. Lol. Because we completed most of the important stuff the past few days already and we were quite shagged. LOL! =) So we decided to explore a new Night Market again today. Hee. 師大路夜市 Shida Night Market!! Shida Night Market can be accessed from the Taipower Building MRT. Since the day we went there was a weekend, there were lesser students, cause Shida Night Market is near to National Taiwan Normal University and National Taiwan University. Shida Night Market is more havily populated by students during the weekdays. Haha. So, lucky for us, queues were slightly much shorter and there was much lesser people there too! =) Hee.
After exiting from Taipower Building MRT, we headed out by exit 3 and turned right. We walked along Shida Road for about 3-5 minutes and we started seeing small crowds, and we knew we were about there. Haha. We reached at about 6pm, relatively early for a Night Market outing. =P Hee. So the first stall we saw was the Crepe Shop! =)

Crepes!


The MENU


Bought a Banana Crepe, cause we were thinking about how little fruits we have been eating this week. Healthy us =) *beams*


Anyway, we waited about 15 minutes when we ordered at about 6.15pm, so I guess, the later you come, the longer you have to wait. =X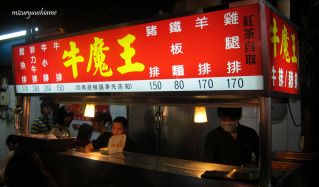 Another stall that we saw a long queue.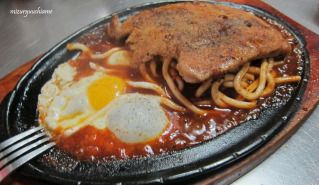 Hot plate spaghetti with Barbeque Pork Chop. For only TWD150, about SGD6.50. Quite cheap and its definitely filling for one person, so both of us just shared one plate. =) There were free flow drinks too!


Dachang Bao Xiaochang (大腸包小腸 Small Sausage in Big Sausage)!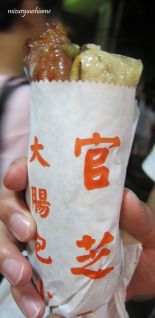 In case you have no idea what that is, 大腸包小腸 is actually a Taiwanese night market creation of a pork sausage wrapped in a glutinous rice sausage. Quite tasty! =)


Jipai(雞排 Fried Chicken Fillet) Yumyum!


The stall name, I recommend this for the lazy bums out there who want boneless fried chicken fillet! =P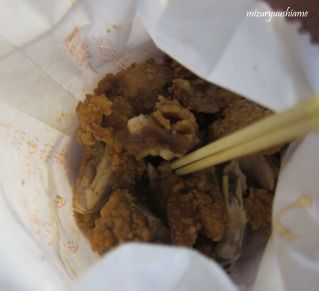 They cut them up into bite-size pieces for you too! Whoots~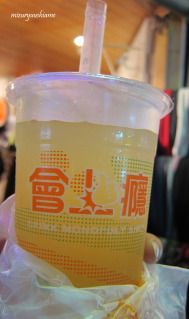 Finally, a drink to douse our appetite. Haha. I remember my cousin telling me that we eat ALOT! HAHA! Guilty as charged~


Our last buy of the day! =P


Po Lo Bao. You can also find them in Singapore bakeries, but of course, the Taiwanese version is better! =) Bought 2 for breakfast the next day!


The packaging is so cute~ Hee.
After our Shida Night Market eating rampage, we also walked around, you know, shopping. Hehheh! I bought 2 basic tops here, for only TWD200(less than SGD10 for both tops)!! Cheap Cheap! Wanted to buy more, but I was restrained by the 20kg luggage we bought! BOO!! So, after that, we decided to head back to our hotel, and along the walk back to the MRT, it started to rain heavily. Haha. Lucky us, it only started raining heavily when we were done with our Night Market food hunt. Heh. =P Quite a fruitful and eventful day. And of course, we slept late, justifying a late wake-up time for tomorrow too! =D Heehee!
Anyway, a slight update on my life now! Haha. Just recently took part in the Singapore International Band Festival 2012 with Temasek Junior College and I am proud to say that we got a GOLD! and we were the THIRD in the first division, lagging behind SMU Symphonia and this superb Thailand band! Woooo! Large improvement as compared to the past 2 silvers TJC obtained in the past 2 SYFs. And I am happy to say that our conductor, Mr Alex Lin looked happy and proud of the achievement! I know he definitely wanted us to get first and be able to play in the Esplanade, but being able to come this far with only about 2 months of official practice, it is already magical! TJCSB MAGIC! And I am proud to say that I am a part of and will always be a part of TJCSB/TJCAB! =D