Holidays
Taiwan
Taiwan Day 2: NY Bagels, Wufenpu Shopping District, Hello Kitty Sweets Cafe, Mala Hotpot
02:26
Day 2 of Taiwan Trip (23rd May 2012, Wednesday) After day 1 of Taiwan, we were quite tired because we had a late night. Sleeping at about ...
Day 2 of Taiwan Trip (23rd May 2012, Wednesday)
After day 1 of Taiwan, we were quite tired because we had a late night. Sleeping at about 2-3am. Haha. So we woke up late and decided to have brunch instead. We headed to NY Bagels, located at Q Mall.

To get there, we took MRT from Ximen Station to Taipei Main Station (1 stop only), and walked towards the Zhongxiao West Road exit. P.S. Taipei Main Station is one large place!! Haha. We arrived at about 12.30pm, and it didn't take too long for us to find a seat. =) So hurrayhurray! They also served us (free!!) apples and a drink that tasted like Honey Tea. It took them about 10-15 minutes for our meals to be sent to us. So here's a few pictures of our wonderful brunch! YUMYUM! =D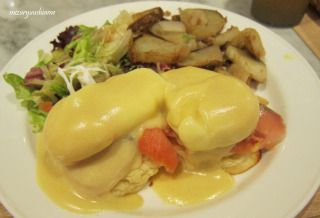 Eggs Benedict with Smoked Salmon (Kailing and I ordered this!)


Another shot of the Eggs Benedict! This is heavenly!!~ =P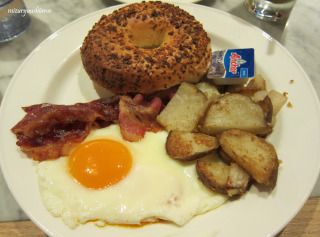 Onion Bagel with Bacon and Sunny-side up Egg (Da ordered this!)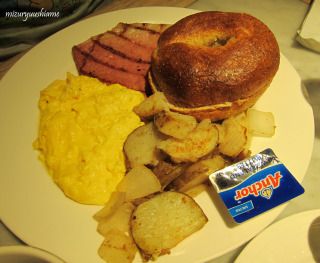 Wholemeal Bagel with Ham and Scrambled Egg (Baowen ordered this!)


Kailing and I =)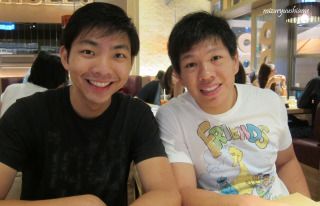 Da and BaoWen


I <3 NY Bagels!! Definitely coming back for more!!
After brunch, it was about 1.30pm and we were SUPER full!! So we decided to walk our bulging tummies off at Wufengpu Shopping District. Wufenpu Shopping District opens at 12pm officially, but stalls take their own time to open, so I suggest going slightly later, like about 2pm. =) We took MRT from Taipei Main Station to Houshanpi Station, along blue line, towards Taipei Nangang Exhibition Center Station (南港展覽館站). It took us about 20-25mins, and we exited at exit 1(if I am not mistaken). Once we exited, we walked straight, cross a very big road. And we were able to see a stall at our diagonally right hand side (a yellow signboard with a large bearded guy. Hahaha). We continued walking straight, crossing one more road and straight again, till we reached a small lane, and shopping began!! =D Haha. I only bought 1 dress ONLY!!



Only one photo, thats not very well taken. Oops.
My bf and I are actually not good with shopping for long hours, we usually walk about 1 hour, and we MUST take a rest! Haha. So shopping with Kailing and Bao Wen took us out literally. Haha. We shopped from 2pm to about 6pm. By the time we were done, my bf and I were fully exhausted!! D= Haha. Dang, we are so out of shape!!! HAHAHA!! =P Finally, Kailing decided she had enough of shopping and we took the MRT again, to Zhongxiao Fuxing Station, to find Hello Kitty Sweets Cafe. We exited from Exit 3, walked all the way straight and turned right into Da'an Road, walked slightly more, and we reached the Hello Kitty Cafe. The address is No. 90, Da An Road, Sec. 1, Taipei. 台北市大安路一段90號.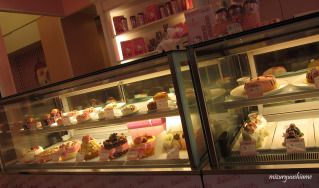 We didn't stay here for too long, because, our final stop and dinner is Mala Hotpot Buffet!!!
We took MRT back to Ximen Station. And walked towards one end of the Ximending shopping street until the Holiday KTV(Bright Orange sign) building. The Mala Hotpot Buffet can be accessed through the stairs of this building.


The most important thing is that there is FREEFLOW Haagen-Dazs and Movenpick ice-cream!!!! Isn't that the most epic thing! =D LOL! It cost 499 TWD (about 21.70 SGD) for each adult! The only downside is that there is a time-limit for you to eat, 2 hours. We started at about 8pm, and ended at 10pm. But that's definitely enough time for a usual table of 4. =P We ordered a lot of meat and took some seafood, and MANY MANY MUCH ICE-CREAM! Haha.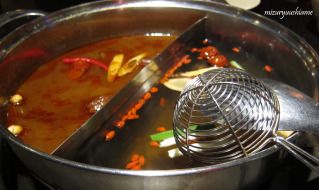 Yin-Yang Pot (Ginseng Chicken and Mala Soup Base)


Some of the meat come with labels! Lol~


Simply meat galore!! HAHA!


Packaged Tou Hua!


Taste like Lao-Bao Tou Hua!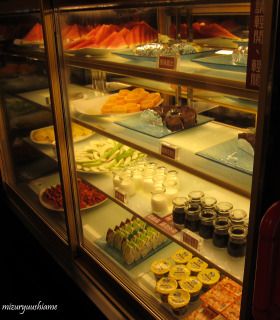 Dessert and fruits =)


Freeflow Movenpick!!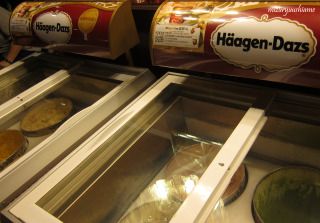 Freeflow Haagen-Dazs!! There's even Green Tea!!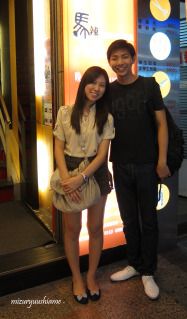 Da and I <3
After that hearty dinner, we walked around Ximending to digest and Kailing and BaoWen went to buy some souvenirs (some shops at Ximending close at 11pm), then back to our hotel to snooze~ Great day! =D YAY! =]