Da
Events
Food
DSO 40th Anniversary D&D
18:09
Headed over to Raffles City to attend the 40th anniversary D&D held by DSO. DSO is also known as Defence Science Organistion, in Singapo...
Headed over to Raffles City to attend the 40th anniversary D&D held by DSO. DSO is also known as Defence Science Organistion, in Singapore. What they do there, I have no idea, other than the fact that it is research-based. LOL. =X Haha. Maybe a company that I can look to when I graduate. Heh. But everything is still unpredictable, so I'm keeping my options open first. =)

The DSO 40th Anniversary D&D is held in the top level of Raffles City shopping centre, at the Fairmont Ballroom. The VIP for this event is our Minister of Defense, Dr Ng Eng Hen.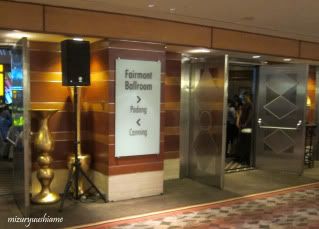 And since it was their 40th anniversary, there was a gallery of some sorts, in which every division had to display their artistic talent and come up with a tree-like picture.

Some of the good ones that I took some pictures of. This was from the Finance department, I think.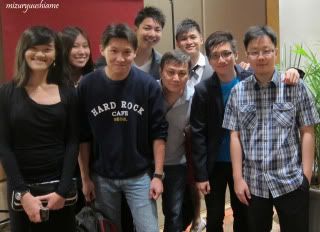 Took a photo with my bf and his collegues. The entire lab only has 1 girl, and she's a MIT Masters graduate!! Super smart!! =P
As usual, I specialise in taking photos of food. So yes, the food pictures spamming begins~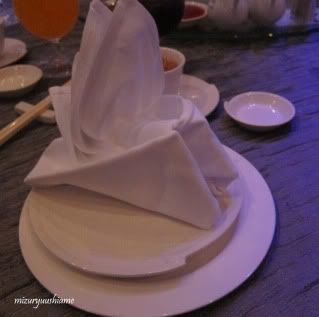 Emperor Cold Dish Delight
(Honey Chicken Char Siew, Sea Jelly, Japanese Mini Octopus, Tuna Fish Roll, Prawn Salad)
Heh. This was not bad. =) But this was the first dish and I paiseh, so cannot eat too much. Cannot give people bad impression. LOL!!!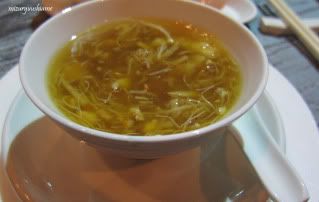 No, this is not Sharksfin. LOL. Canadian Lobster Broth with Seafood and Fish Maw.
This was good too!! =) Everytime I eat sharksfin during wedding dinners, I always like the broth more than the sharksfin actually. Heh.

Sauteed Scallop with Celery and Dried Chilli
The scallops was very tender and the sauce that accompanied the scallops complimented the overall splendid taste.

Oven-Baked Boneless Chicken with Ginseng Herbs wrapped in Lotus Leaf
This was more of an older-folk style type of dish. Personally, I felt that the smell enticed me in the beginning (because it was oven-baked) but I grew tired of the taste after the second bite, probably fell short of my expectations. =X

Steamed Malabar Red Snapper with Crispy Broad Bean Paste
Haha. Boney fish always made me steer clear of them. This was rather decent because I was not challenged with pulling out minute bones out of my mouth. LOL.

Braised Broccoli with Conpoy and Dried Mushroom
Another rather decent dish, you cannot go wrong with Broccoli, really. I went for second helpings!~ =)

Chilled Pearl Sago Cream with Longan and Rock Melon
Awful. Tasted like diluted syrup. I only ate the longans and the rock melons. Definitely no second helpings for this.
There were lucky draws too. With prizes ranging from cash prizes ($2000) to iPads to cameras, not to mention, electronic household appliances, like HAPPYCALL. LOL!!
The dinner ended at about 11pm and we hurried home because we didn't want to clash with the crowd. There were about 120 papers in the Ballroom, so there were about a grand total of 1200 people there. No joke! Lol.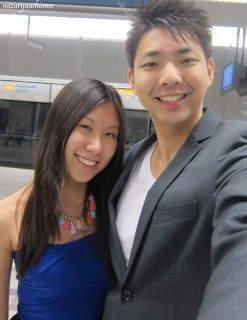 Ending off with a photo of us. <3
Excellent dinner and excellent company. =)